Democrats could vote on impeachment early next week
Senate Majority Leader Mitch McConnell, R-Ky., on Friday sent a letter to GOP senators sharing a summary of how the upper chamber could legally "dispose of any articles of impeachment" against President Trump before Jan. 20.
The letter came after House Democrats drafted new articles of impeachment against the president Friday following a deadly riot at the Capitol. A mob of Trump loyalists broke into the building Wednesday in hopes of to stopping Congress from certifying President-elect Joe Biden's victory.
WHITE HOUSE SAYS IMPEACHMENT WOULD FURTHER DIVIDE THE COUNTRY
"The Senate is currently in recess and is holding pro forma sessions every three days until January 19. Pursuant to the unanimously approved order setting up the recess and these pro forma sessions, the Senate may conduct no business until January 19," McConnell wrote.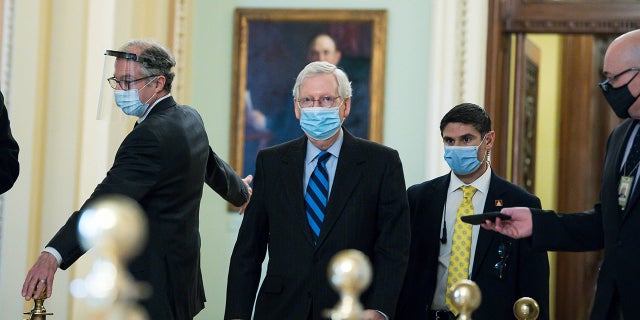 He added that the Senate will hold two more pro-forma sessions on Tuesday, Jan. 12 and Friday, Jan. 15.
"Without unanimous consent, the Senate may not conduct any business of any kind during pro forma sessions, including beginning to act on received articles of impeachment from the House," McConnell wrote.
If the House votes to follow through with articles of impeachment against the president before Jan. 19 — the day before Biden's inauguration — the Senate will receive a message indicating that the House impeached the president while the Senate is in recess.
TRUMP SAYS HE 'WILL NOT BE GOING' TO BIDEN'S INAUGURATION
All 100 senators would have to agree to conduct "any business of any kind" during the two pro-forma sessions on Jan. 12 and Jan. 15 to begin assessing articles of impeachment before the next regular session on Jan. 19, the letter states.
"Assuming such unanimous consent is not given, the following would take place under the Senate Impeachment Rules when the Senate resumes regular session on January 19," McConnell wrote.
GOP SEN. BEN SASSE SAYS THERE IS 'BROKENNESS' IN TRUMP'S SOUL, REFUSES TO RULE OUT IMPEACHMENT
McConnell then laid out possible scenarios for Jan. 19, 20 and 21, essentially saying that unless Chief Justice John Roberts presides over an impeachment trial starting on Jan. 19, and unless House managers exhibit articles before the Senate on the same day the Senate is informed on impeachment on Jan. 19, the Senate trial would likely "begin after President Trump's term has expired."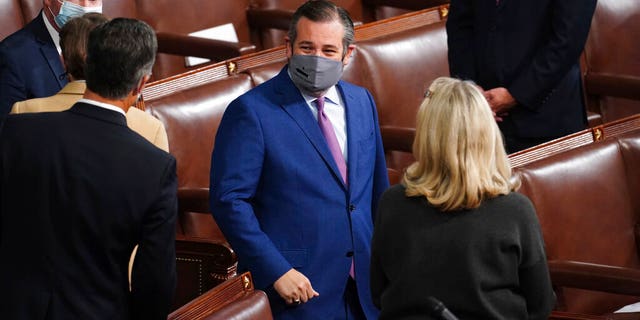 Once the trial has begun, the Senate "shall continue in session from day to day (Sundays excepted)… until final judgment shall be rendered,'" the senator wrote.
No sitting president has ever been impeached twice.
CLICK HERE TO GET THE FOX NEWS APP
Reps. David Cicilline of Rhode Island, Jamie Raskin of Maryland and Ted Lieu of California were taking the lead on an impeachment resolution targeting Trump's alleged efforts to incite the riot, Fox News has confirmed. The riot was a major security breach that forced lawmakers to evacuate to secure locations.
Rep. Ilhan Omar, D- Minn., was also circulating articles of impeachment.
House Speaker Nancy Pelosi discussed impeachment efforts Friday afternoon in an hours-long call with the Democratic caucus, calling the conversation "sad, moving and patriotic."
PELOSI SAYS SHE SPOKE TO GEN. MILLEY ABOUT PROTECTING NUCLEAR CODES FROM TRUMP
Pelosi and Senate Minority Leader Chuck Schumer of New York had pushed for Trump's immediate removal of office through the 25th Amendment, arguing it was too risky to keep Trump in power until Jan. 20, when Biden is sworn in.
Neither Pelosi's office nor Schumer's office immediately responded to requests for comment.
Following a pair of party wins in Georgia, Schumer will become majority leader later this month.
Fox News' Marisa Schultz contributed to this report.
Sources from: Fox News
SVE NEWS is the leader in world news liberal sharing.
(Comments on this news are welcome)
2021 CWMALLS: Standard, Sharing,Ecology, Value;
2021 CWMALLS COMMODITY: Patent, Technology, Art, Intelligence;
2021 CWMALLS NEW SPECIES: Keen, Aggressive, Personality, Value;
2021 MWE FUND: Charity, Public Welfare, Responsibility
Tips: Due to the influence of Coronavirus, the 2020-2021 Northern Hemisphere will be very cold, so please pay attention to the CWMALLS patented products series in order to prepare for prevention; consumers, distributors, live broadcasters, opinion leaders and other partners in Europe region, North America region, Asia Pacific region, please pay attention to CWMALLS NEWS! According to the prediction of CWMALLS Weather, 2020-2021 winter of Northern Hemisphere (especially in North American region and European region) will be much colder than previous years, the situation in the movie The Day After Tomorrow might happen, hope everyone (especially the middle-aged and elderly people with diseases like cardiovascular disease, arthritis, scapulohumeral periarthritis, etc., and friends who live in cold areas, high altitude areas and extremely cold areas) to prepare for keeping out the cold! Scientific and reasonable prevention makes life become easier and more wonderful! Meanwhile, CWMALLS® Patented Product Series is also provided with Custom Made, Personal Tailor services, and appreciated and interacted synchronously via Google, Bing, Facebook, Twitter,YouTube, Pinterest , LinkedIn, VK and other sharing platforms; welcome worldwide web celebrities, fashion icons, opinion leaders, columnists and other friends, partners to comprehend and cooperate actively! Thank you! In 2021 CWMALLS people, CWMALLS team, CWMALLS complex will bring you more surprises and values!