After months of battling wildfires that scorched thousands of homes and created mass evacuations in eastern Australia, officials announced Thursday that all the blazes in the New South Wales state are considered contained after recent rains.
New South Wales Rural Fire Service's deputy commissioner Rob Rogers said in a video posted Twitter that while there is still some fire activity in the southern part of the state, emergency workers can now focus on "helping people rebuild."
"After what's been a truly devastating fire season for both firefighters and residents, who've suffered so much this season, all fires are now contained in New South Wales," Rogers said.
AUSTRALIA RAIN MAY PUT OUT REMAINING WILDFIRES IN NEW SOUTH WALES BY END OF WEEK AFTER RECENT DELUGE
Rogers said all fires are contained, meaning that a perimeter has been established around the blazes to prevent additional spread.
The fire service said while "substantial rain" has recently fallen in some areas, firefighters continue to work on 24 bush and grass fires.
"The main focus now for crews is to locate and extinguish any remaining hotspots," RFS said.
HEAVY RAIN IN AUSTRALIA EXTINGUISHES MAJOR WILDFIRE, CAUSES FLASH FLOODING
In all, Australia's wildfires killed at least 33 people and destroyed more than 3,000 homes. The fires began causing widespread destruction toward the end of 2019, which was both the hottest and driest year in Australia's recorded history, according to the Bureau of Meteorology.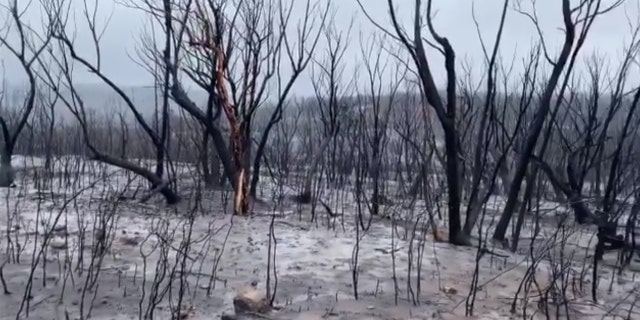 During the deluge over recent days, coastal areas have experienced some of the heaviest rainfalls, which has caused flash flooding in some places.
CLICK HERE FOR MORE WEATHER COVERAGE FROM FOX NEWS
Sydney, the central coast and the Blue Mountains received up to 16 inches since last Friday, representing some of the heaviest falls in decades.
The Associated Press contributed to this report.
Sources from: Fox News
SVE NEWS is the leader in world news liberal sharing.
(Comments on this news are welcome)
Tips: More wonderful contents, please pay attention to "Instagram: @cwmalls ". From now on, WWW.CWMALLS.COM officially provides Custom Made Leather Jackets Series, Made to Order Leather Shoes Series, ODM Leather Bags Series around the world; whether for men's style or women's style, Whether it is Haute Couture, or prop clothing, performing costumes, professional clothing, special clothing, advanced customization, we can meet all your requirements; please pay attention and experience! Meanwhile, CWMALLS® Patented Product Series is also provided with Custom Made, Personal Tailor services, and appreciated and interacted synchronously via Google, Bing, Facebook, Twitter, Instagram,YouTube, Pinterest , LinkedIn, VK   and other sharing platforms; welcome worldwide web celebrities, fashion icons, opinion leaders, columnists and other friends, partners to comprehend and cooperate actively! Thank you! In 2020 CWMALLS people, CWMALLS team, CWMALLS complex will bring you more surprises and values!