4 min ago
Maduro says 'coup' has been defeated
Venezuelan President Nicolas Maduro said the protests led by opposition leader Juan Guaido and Leopoldo Lopez were tantamount to an attempted coup, but their efforts had been defeated.
"I want to congratulate you for the firm, loyal and courageous attitude with which you have led the defeat of the small group that tried to fill Venezuela with violence," Maduro said.
"Factors from the right wing of the Popular Will terrorist party led the coup d'etat," he said, referring to Guaido and Lopez's political party.
"The empire seeks to attack and overthrow a legitimate government to enslave Venezuela. I want to congratulate the High Military Command for its courage in defending peace," Maduro continued.
Guaido, who earlier this year declared himself Venezuela's interim president, announced Tuesday that he was "beginning the final phase of Operation Freedom," an escalation of his bid to oust Maduro, which started in January. He was flanked by men in military fatigues and armored vehicles.
Guaido, who had previously called for nationwide demonstrations on May 1, leads Venezuela's National Assembly and has been recognized as the nation's interim president by dozens of other countries. He has led months of protest against the government, but his April 30 speech marked his most successful attempt yet to involve the military in the removal of the Venezuelan leader.
6 min ago
Breaking: Maduro addresses the nation
Venezuela's embattled President Nicolas Maduro is delivering a televised address after Tuesday's protests led by opposition leader Juan Guaido, saying he will not surrender to US "imperialists."
Maduro said that the La Carlota military base in the capital of Caracas, where violent clashes took place earlier Tuesday, was not taken over.
More than 70 people who were injured in the clashes there between regime loyalists and protesters were taken to Salud Chacao Medical Center in Caracas, according to the hospital's president. Of the injured, 42 were wounded with rubber bullets and two were treated for gunshot wounds.
32 min ago
What you need to know about the uprising in Venezuela
Protesters took to the streets Tuesday after the leader of Venezuela's opposition declared he was "beginning the final phase of Operation Freedom," promising to bring an end to the government of Nicolás Maduro.
Here's what you need to know:
What led up to today: Opposition leader Juan Guaido — who declared himself interim president in January — has been recognized as Venezuela's leader by dozens of other countries and has led months of protest against Maduro's government.
What happened: Guaido gave a dawn address in which he was flanked by men in military fatigues and armored vehicles in the capital Caracas. It marked his boldest attempt yet to involve the military in the removal of the Venezuelan leader.
What Guaido has promised: The 35-year-old has promised a transitional government and free elections to end the rule of the socialist Maduro regime, which has overseen the once-wealthy oil nation's descent into economic collapse and a humanitarian crisis.
What the US is saying: Secretary of State Mike Pompeo claimed Tuesday that Maduro was preparing to leave Venezuela, but was talked out of it by Russia.
What Maduro is saying: "The situation is under control," Maduro's Communications Vice Minister Isbemar Jimenez told CNN on Tuesday. "All military garrisons support Venezuelan President Nicolás Maduro."
1 hr 36 min ago
Cuba's president calls Trump's threat a "dangerous aggressive escalation"
From CNN's Patrick Oppmann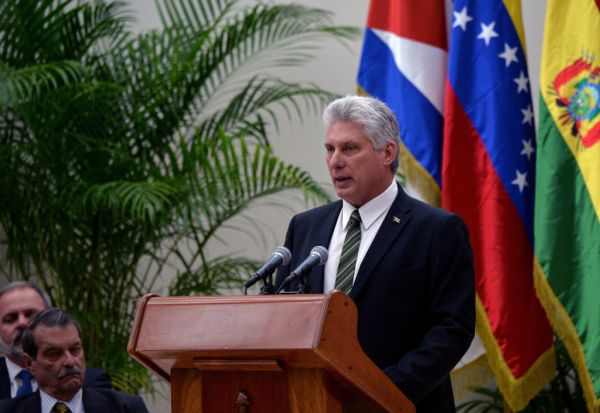 Cuban President Miguel Díaz-Canel responded to President Trump's threat on Tuesday, calling it a "dangerous aggressive escalation."
"We strongly reject the threat of a total and complete blockade against Cuba. There are no military operations nor Cuban troops in Venezuela," Díaz-Canel tweeted Tuesday.
"We call on the international community to stop the dangerous aggressive escalation and preserve peace. Enough lies. #WeAreCuba" the Cuban president said in his tweet.
In a series of tweets Tuesday, Trump threatened that a "full and complete embargo, together with the highest-level sanctions" would be placed on Cuba if the country's troops don't cease military operations in Venezuela.
Cuba still receives an estimated 50,000 barrels of oil a day from its socialist ally. The country also sends doctors, military and intelligence advisers to assist President Nicolás Maduro's government.
2 hr 6 min ago
Russia accuses US of spreading misinformation on Maduro leaving Venezuela
From CNN's Fred Pleitgen
Responding to Secretary of State Mike Pompeo's claim that Russia talked Venezuelan President Nicolas Maduro out of leaving for Cuba, Russian Foreign Ministry spokesperson Maria Zakharova told CNN Tuesday the information was fake.
"Washington tried its' best to demoralize the Venezuelan army and now used fakes as a part of information war," Zakharova said in a statement to CNN.
3 hr 16 min ago
Opposition figure Leopoldo Lopez enters Chilean embassy
From CNN's Mohammed Tawfeeq
Leopoldo Lopez, a high-profile opposition politician, and his family have entered the Chilean Diplomatic Mission Residency in Caracas "as guests," the Chilean Ministry of Foreign Affairs tweeted on Tuesday.
In the tweet, Chile reaffirmed its commitment to Venezuelan democracy.
Earlier today, Lopez appeared with opposition leader Juan Guaido.
Lopez, a sharp critic of embattled President Nicolás Maduro, was also freed from house arrest earlier today.
By Rob Picheta, Meg Wagner and Veronica Rocha, CNN
Updated 4 min ago
9:35 p.m. ET, April 30, 2019
Sources from: CNN
SVE NEWS is the leader in world news liberal sharing.
(Comments on this news are welcome)
Tips: From now on, WWW.CWMALLS.COM officially provides Custom Made Leather Jackets Series, Made to Order Leather Shoes Series, ODM Leather Bags Series around the world; whether for men's style or women's style, Whether it is Haute Couture, or prop clothing, performing costumes, professional clothing, special clothing, advanced customization, we can meet all your requirements; please pay attention and experience! Meanwhile, CWMALLS® Patented Product Series is also provided with Custom Made, Personal Tailor services, and appreciated and interacted synchronously via Google, Bing, Facebook, Twitter, Instagram,YouTube, Pinterest , LinkedIn, VK  and other sharing platforms; welcome worldwide web celebrities, fashion icons, opinion leaders, columnists and other friends, partners to comprehend and cooperate actively! Thank you! In 2019 CWMALLS people, CWMALLS team, CWMALLS complex will bring you more surprises and values!