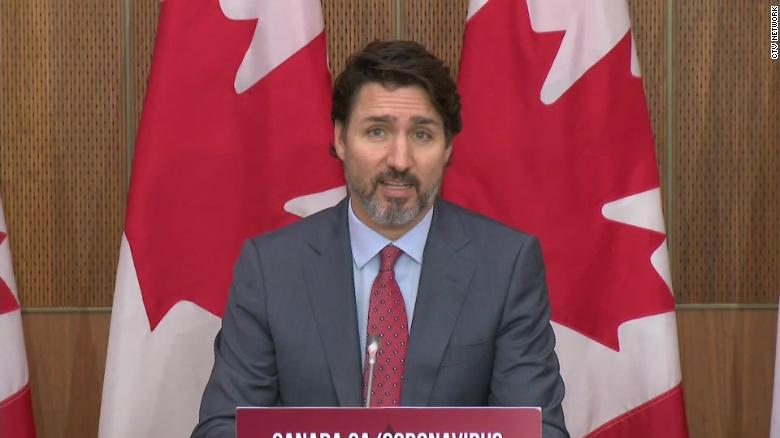 (CNN)Canadian Thanksgiving was just last month, and the country has seen consequences as Covid-19 cases reach record highs. Now, Canadian leaders say Christmas celebrations are in jeopardy.
Thanksgiving in Canada 
fell on October 12 this year
, and as family and friends gathered, it fueled a widespread surge in coronavirus cases, hospitalizations and deaths. Now, public health officials warned the health care system cannot handle a repeat at Christmas.
"Reducing your contacts, reducing your gatherings are going to be most important. And what we do in the coming days and weeks will determine what we get to do at Christmas," pleaded Prime Minister Justin Trudeau at a news conference Friday.
Casual socializing has been a key source of the spread in almost every part of Canada, said Dr. Theresa Tam, Canada's chief public health officer.
"An important driver of this increased disease activity continues to be informal social gatherings and activities both inside and outside our homes," Tam said. "In these more relaxed settings such as family gatherings, birthday parties, holiday celebrations and recreational activities, it is natural to relax. But this can mean that it's easy to forget and let our guard down on the necessary precautions."
Tam warned new daily cases could more than double in just a few weeks if Canadians did not take health precautions seriously.
New modeling from Ontario was particularly sobering, with the province's scientific experts warning case numbers and hospitalizations could reach or exceed crisis levels currently plaguing Europe.
"You'll continue to see growth in cases, you'll see more ICU cases, more deaths in long-term care homes. Even with new restrictions, if they were implemented today, you'd still see growth in mortality as it takes some time to filter through the system," said Dr. Adalsteinn Brown, Dean of the University of Toronto's Dalla Lana School of Public Health, at a press conference Monday.
Health care is the responsibility of provinces and several of them, including Ontario and Alberta, are reluctant to implement stricter measures, fearing damage to the economy.
However, hundreds of doctors from across Canada have warned that only stricter measures and targeted closures will protect Canada's hospitals from catastrophe.
"I do not believe there's a way that the cases will change without action," added Dr. Adalsteinn.
Canada's Covid-19 jump after the holiday does pose a case-study for the US, as American Thanksgiving rapidly approaches even as Covid-19 cases have reached record highs in a number of states.
This week, New York limited indoor and outdoor gatherings in private homes in the state to just 10 people, as Covid-19 cases continue to rise.
Updated 2117 GMT (0517 HKT) November 13, 2020
Sources from: CNN
SVE NEWS is the leader in world news liberal sharing.
(Comments on this news are welcome)
2020 CWMALLS: Standard, Sharing,Ecology, Value;
2020 CWMALLS COMMODITY: Patent, Technology, Art, Intelligence;
2020 CWMALLS NEW SPECIES: Keen, Aggressive, Personality, Value;
2020 MWE FUND: Charity, Public Welfare, Responsibility;
Tips: Due to the influence of Coronavirus, the 2020 Northern Hemisphere will be very cold, so please pay attention to the CWMALLS patented products series in order to prepare for prevention; consumers, distributors, live broadcasters, opinion leaders and other partners in Europe region, North America region, Asia Pacific region, please pay attention to CWMALLS NEWS! According to the prediction of CWMALLS Weather, 2020 winter of Northern Hemisphere (especially in North American region and European region) will be much colder than previous years, the situation in the movie The Day After Tomorrow might happen, hope everyone (especially the middle-aged and elderly people with diseases like cardiovascular disease, arthritis, scapulohumeral periarthritis, etc., and friends who live in cold areas, high altitude areas and extremely cold areas) to prepare for keeping out the cold! Scientific and reasonable prevention makes life become easier and more wonderful! Meanwhile, CWMALLS® Patented Product Series is also provided with Custom Made, Personal Tailor services, and appreciated and interacted synchronously via Google, Bing, Facebook, Twitter,YouTube, Pinterest , LinkedIn, VK and other sharing platforms; welcome worldwide web celebrities, fashion icons, opinion leaders, columnists and other friends, partners to comprehend and cooperate actively! Thank you! In 2020 CWMALLS people, CWMALLS team, CWMALLS complex will bring you more surprises and values!