Aerospace giant Airbus says it plans to cut 15,000 jobs as it deals with the effects of the coronavirus crisis.
It will cut 1,700 jobs in the UK, along with thousands more in Germany, Spain and elsewhere.
The move is subject to talks with unions which have opposed compulsory redundancies.
The Unite union said the Airbus announcement was "another act of industrial vandalism" against the UK aerospace sector.
Some 134,000 people work for Airbus worldwide, with around a tenth of them in the UK.
The firm said the UK cuts would fall only on the commercial aircraft division at its two sites at Broughton in Flintshire and Filton, Bristol.
More details of the job losses and how they will break down between the two giant factories will come at the end of the week after talks with unions.
However, Unite said it expected 1,116 manufacturing jobs and 611 office-based jobs to go, shrinking Airbus's UK workforce by 15%.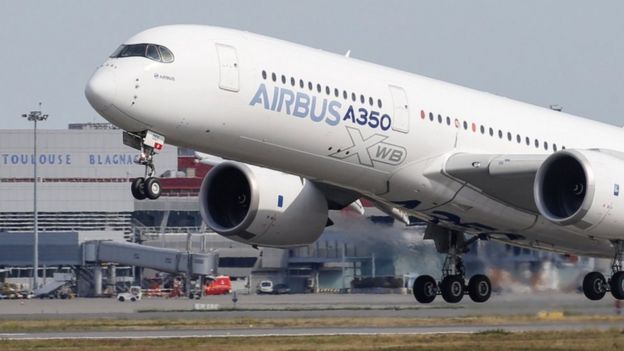 These cuts were inevitable. The only question was just how severe the pain would be.
The Covid-19 pandemic has been little short of catastrophic for the airline industry. At one point in April, global air traffic was down by more than 90%.
When planes aren't flying, they aren't earning money. Yet they still need to be maintained and leasing costs or loans still need to be paid.
The result? Airlines are struggling to survive and simply can't afford to take on new planes right now. And that, of course, means Airbus has had to curb production.
Airbus has delayed these cuts and has made full use of support from governments. But ultimately it had little choice.
And the pain being felt in places such as Broughton, Toulouse and Hamburg will echo through the entire supply chain.

The firm expects to make the cuts by summer 2021, but hopes the majority of redundancies will be voluntary or through early retirement of staff.
The company warned in April that it was "bleeding cash at an unprecedented speed" as it struggled with the impact of the coronavirus crisis.
'Gravest crisis'
It said on Tuesday that production had dropped by 40% in recent months, and that it did not expect air traffic to get back to pre-pandemic levels until 2023 at the earliest.
"Airbus is facing the gravest crisis this industry has ever experienced," said chief executive Guillaume Faury. "The measures we have taken so far have enabled us to absorb the initial shock of this global pandemic.
"Now, we must ensure that we can sustain our enterprise and emerge from the crisis as a healthy, global aerospace leader, adjusting to the overwhelming challenges of our customers."
News of the cuts comes as the international aviation industry reels from the impact of the pandemic. On Tuesday, EasyJet said it would close three UK bases and cut about 2,000 staff.
And Reuters reported that Air France/KLM was targeting more than 6,500 job cuts over the next two years.
Jim McMahon, Labour's shadow transport secretary, called for more government support in the UK.
"Labour has consistently called for an extension to the furlough in the most impacted industries, and a sectoral deal that supports the whole aviation industry including securing jobs and protecting the supply chain, while continuing to press for higher environmental standards."
A government spokesman said: "We understand this will be a difficult time for Airbus's employees and their families, and we stand ready to support anyone affected in any way we can.
"We will continue to work closely with the sector to ensure firms are able to rebuild as the civil aviation market recovers."
Sources from: BBC News
SVE NEWS is the leader in world news liberal sharing.
(Comments on this news are welcome)
2020 CWMALLS: Standard, Sharing,Ecology, Value;
2020 CWMALLS COMMODITY: Patent, Technology, Art, Intelligence;
2020 CWMALLS NEW SPECIES: Keen, Aggressive, Personality, Value;
2020 MWE FUND: Charity, Public Welfare, Responsibility;
Tips: Due to the influence of Coronavirus, the 2020 Northern Hemisphere will be very cold, so please pay attention to the CWMALLS patented products series in order to prepare for prevention; consumers, distributors, live broadcasters, opinion leaders and other partners in Europe region, North America region, Asia Pacific region, please pay attention to CWMALLS NEWS! According to the prediction of CWMALLS Weather, 2020 winter of Northern Hemisphere (especially in North American region and European region) will be much colder than previous years, the situation in the movie The Day After Tomorrow might happen, hope everyone (especially the middle-aged and elderly people with diseases like cardiovascular disease, arthritis, scapulohumeral periarthritis, etc., and friends who live in cold areas, high altitude areas and extremely cold areas) to prepare for keeping out the cold! Scientific and reasonable prevention makes life become easier and more wonderful! Meanwhile, CWMALLS® Patented Product Series is also provided with Custom Made, Personal Tailor services, and appreciated and interacted synchronously via Google, Bing, Facebook, Twitter,YouTube, Pinterest , LinkedIn, VK and other sharing platforms; welcome worldwide web celebrities, fashion icons, opinion leaders, columnists and other friends, partners to comprehend and cooperate actively! Thank you! In 2020 CWMALLS people, CWMALLS team, CWMALLS complex will bring you more surprises and values!