Conservative MPs will begin the process of choosing their new leader and the next prime minister later when a first round of voting is held in Parliament.
Voting will take place by secret ballot in the Commons, with a result expected some time after 13.00 BST.
Any of the 10 candidates who fails to secure at least 17 votes will be eliminated from the contest.
Further ballots will be held next week, with the two most popular MPs moving to a run-off of Tory party members.
The winner of the contest to succeed Theresa May is expected to be announced in the week of 22 July.
Boris Johnson – who launched his leadership campaign on Wednesday – is regarded as the frontrunner in the contest, with many more endorsements from MPs than any of his rivals.
In his pitch to MPs, the former foreign secretary pledged to take Britain out of the EU by the end of October. He gave little detail of his plan but stressed it was not his aim to leave without a deal.
He also defended what he called his straight-talking style, saying the public wanted to hear what politicians genuinely thought. But he dodged questions on whether he had ever taken cocaine.
One rival, the Home Secretary Sajid Javid, who also launched his leadership bid on Wednesday, described Mr Johnson as "yesterday's news".
"We need tomorrow's leader, today," he said. "Not the same old insiders with the same old school ties – but a new generation, with a new agenda."
Mr Javid, Michael Gove, Dominic Raab and Jeremy Hunt have all received enough public endorsements to suggest they will make it through to the next round.
The remaining five candidates – Matt Hancock, Rory Stewart, Andrea Leadsom, Mark Harper and Esther McVey – are hoping to make it through and to build momentum.
More than a quarter of the 313 Conservative MPs eligible to vote have yet to state openly whom they are supporting – and, with it being a secret ballot, MPs could in theory vote differently to their declared intention.
The BBC's political editor Laura Kuenssberg said there was plenty of time for the maths in the contest to change fundamentally but the first round of voting should provide a better idea of how the numbers are shaping up.
The leadership race has so far been dominated by Brexit and arguments over whether a deal can be renegotiated with the EU by 31 October, and whether talking up a no-deal Brexit is a plausible promise.
On Wednesday afternoon, MPs rejected a Labour-led effort to take control of Parliament's timetable, thereby blocking the latest attempt to stop a no-deal Brexit.
The Commons opposed the move by 309 votes to 298, prompting cheers from the Tory benches.
If passed, it would have given opponents of a no-deal Brexit the chance to table legislation to thwart the UK leaving without any agreement on the 31 October deadline.
Conservative former minister Sir Oliver Letwin, who has been behind a series of cross-party attempts to block a no-deal, said Parliament may have run out of options.
"On October 31, the UK leaves the EU regardless of whether we do or don't have a deal in place unless somebody does something to alter that," he told the BBC Radio 4 Today programme.
"We have run out of all the possibilities any of us can – at the moment anyway – think of for Parliament to be able to insist on having a view," he added.

Who will replace Theresa May?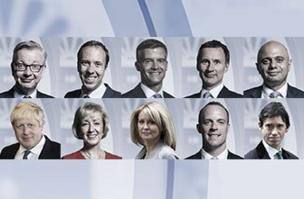 The winner of the contest to lead the Conservative Party will become the next prime minister. The contenders are:
Michael Gove: The environment secretary, and prominent member of the Leave campaign in 2016, has said he would consider a further delay to Brexit
Matt Hancock: The health secretary says leaving with no deal is not an option – so it's between leaving with a deal and not leaving at all
Mark Harper: The former chief whip says he wants the UK to leave with a deal but leaving without one remains an option (if the alternative is not leaving at all).
Jeremy Hunt: The foreign secretary says if the only way to leave the EU is with no deal then he would do that – but it is not his preferred option
Sajid Javid: The home secretary has said he would focus on the Withdrawal Agreement, with changes to the backstop
Boris Johnson: The former foreign secretary wants to remove the Irish backstop plan from the Withdrawal Agreement. He has said the UK will leave on 31 October "deal or no deal", but a no-deal Brexit is not his aim
Andrea Leadsom: The former leader of the House of Commons wants the UK to leave the EU on 31 October – she has called it her "hard red line".
Esther McVey: The former work and pensions secretary says Britain needs a "clean break" from the EU on World Trade Organization (WTO) terms but if the EU makes a better offer she would listen
Dominic Raab: The former Brexit secretary says he would re-open the withdrawal agreement, but adds that leaving on WTO terms "is far better than leaving with a fatally flawed deal"
Rory Stewart: The international development secretary says a no-deal Brexit would be "catastrophic" and advocates citizens' assemblies for Brexit to thrash out a compromise

Thursday's ballot is taking place under new rules agreed by the Conservative Party earlier this month designed to speed up the contest.
Any candidate who fails to gain 5% of the vote in the first round will be out.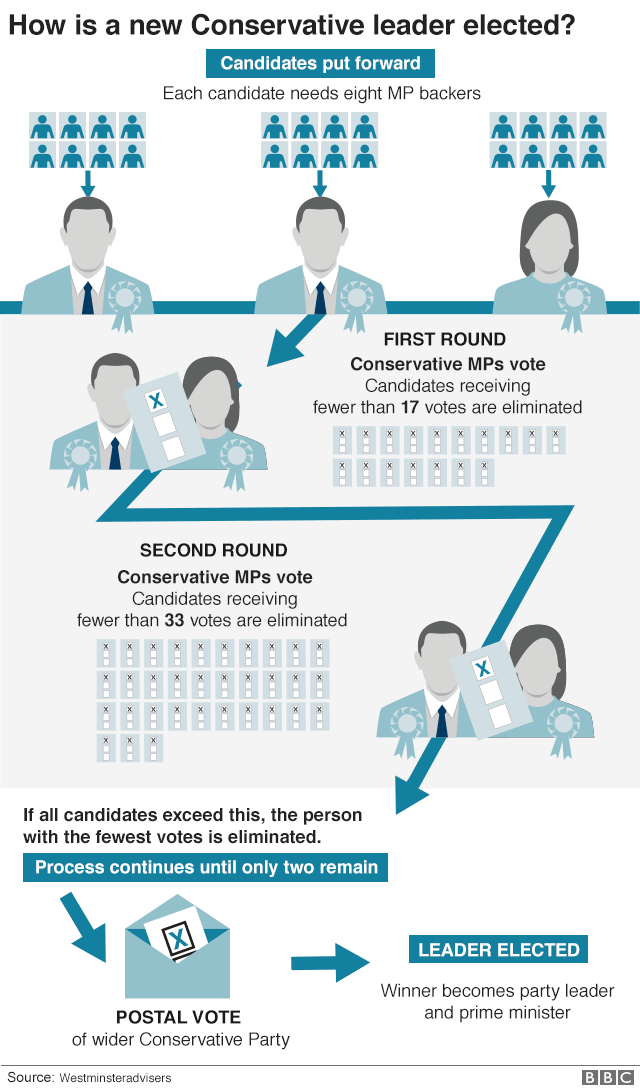 If all the ten candidates receive 17 votes then the one with the fewest votes will drop out of the contest.
If the two weakest candidates receive the same number of votes, then a decision will be taken between them on how to proceed. The candidates are allowed to vote for themselves.
Subsequent ballots are scheduled to take place on 18, 19 and 20 June to whittle down the contenders one by one until only two are left.
The final pair will then be put to a vote of members of the wider Conservative Party from 22 June, with the winner expected to be announced about four weeks later.
Sources from: BBC News
SVE NEWS is the leader in world news liberal sharing.
(Comments on this news are welcome)
Tips: From now on, WWW.CWMALLS.COM officially provides Custom Made Leather Jackets Series, Made to Order Leather Shoes Series, ODM Leather Bags Series around the world; whether for men's style or women's style, Whether it is Haute Couture, or prop clothing, performing costumes, professional clothing, special clothing, advanced customization, we can meet all your requirements; please pay attention and experience! Meanwhile, CWMALLS® Patented Product Series is also provided with Custom Made, Personal Tailor services, and appreciated and interacted synchronously via Google, Bing, Facebook, Twitter, Instagram,YouTube, Pinterest , LinkedIn, VK  and other sharing platforms; welcome worldwide web celebrities, fashion icons, opinion leaders, columnists and other friends, partners to comprehend and cooperate actively! Thank you! In 2019 CWMALLS people, CWMALLS team, CWMALLS complex will bring you more surprises and values!