More than 82 people have been arrested in connection with Wednesday's deadly riot
Florida sheriff's deputies have arrested the man authorities say was photographed carrying House Speaker Nancy Pelosi's lectern through the U.S. Capitol during Wednesday's riot.
Adam Christian Johnson, 36, was picked up by Pinellas County deputies Friday night on a federal warrant, according to an agency report, and he was being held pending trial.
The sheriff's office referred questions from Fox News to the U.S. Marshals Service, which didn't immediately respond to a request for comment.
The Justice Department on Saturday said in a statement that Johnson was charged with "one count of knowingly entering or remaining in any restricted building or grounds without lawful authority; one count of theft of government property; and one count of violent entry and disorderly conduct on Capitol grounds."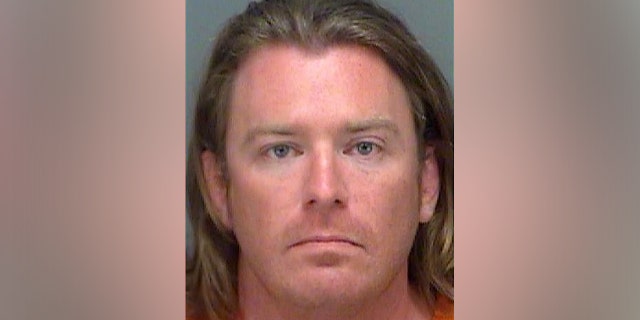 "It is alleged that on Jan. 6, 2021, Johnson illegally entered the United States Capitol and removed the Speaker of the House's lectern from where it had been stored on the House side of the Capitol building," the statement reads. "A search of open sources led law enforcement to Johnson, who is allegedly seen in a widely circulated photo inside the Capitol carrying the lectern."
PELOSI TAKES INITIAL STEP TOWARD TRYING TO REMOVE TRUMP
The Bradenton Herald first identified Johnson as the man in a photo that quickly garnered attention Wednesday after a pro-Trump mob stormed the Capitol as Congress was counting electoral votes — a formality before President-elect Joe Biden's inauguration.
The hours-long siege left at least five people dead, including a Capitol Police officer.
Johnson, who was photographed wearing a hat with Trump's name on it, is a registered voter from Parrish, Fla., though he is not affiliated with any particular party, according to Manatee County voter registration records.
CAPITOL RIOT PROTESTERS, INCLUDING MAN IN PELOSI'S OFFICE, FACE FEDERAL CHARGES
He is a stay-at-home dad with five children, according to the Herald. Neither Johnson nor his family could be reached for comment Saturday.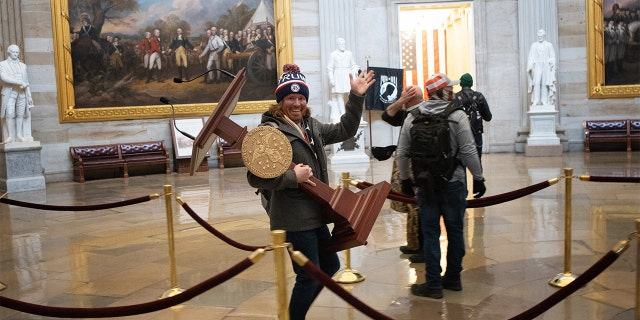 Johnson's social media posts indicated that he was in Washington, D.C., ahead of Wednesday's pro-Trump rally, which, at the direction of the president, turned into a march on the Capitol.
He also shared posts condemning Black Lives Matter and law enforcement officers who defended First Amendment rights, the Herald reported. His criminal history includes a number of traffic and drug violations.
CLICK HERE TO GET THE FOX NEWS APP
The Justice Department said Johnson's case and others are being "prosecuted by the U.S. Attorney's Office for the District of Columbia and investigated by the FBI's Washington Field Office and the United States Capitol Police."
The FBI is currently searching for any information related to individuals identified as participating in the Capitol riot. The bureau on Friday released 40 photos of people accused of breaking into the building and asked for the public's help in identifying them.
The FBI also tweeted that it is offering a $50,000 reward for information leading to the arrest of the person or persons responsible for pipe bombs found outside the Democratic National Committee and Republican National Committee headquarters in D.C. on Wednesday.
ILLINOIS MAN CALLS JOINING CAPITOL SIEGE HIS 'SINGLE WORST PERSONAL DECISION'
At least 82 people have been arrested so far in connection with the riot.
Sources from: CNBC
SVE NEWS is the leader in world news liberal sharing.
(Comments on this news are welcome)
2021 CWMALLS: Standard, Sharing,Ecology, Value;
2021 CWMALLS COMMODITY: Patent, Technology, Art, Intelligence;
2021 CWMALLS NEW SPECIES: Keen, Aggressive, Personality, Value;
2021 MWE FUND: Charity, Public Welfare, Responsibility
Tips: Due to the influence of Coronavirus, the 2020-2021 Northern Hemisphere will be very cold, so please pay attention to the CWMALLS patented products series in order to prepare for prevention; consumers, distributors, live broadcasters, opinion leaders and other partners in Europe region, North America region, Asia Pacific region, please pay attention to CWMALLS NEWS! According to the prediction of CWMALLS Weather, 2020-2021 winter of Northern Hemisphere (especially in North American region and European region) will be much colder than previous years, the situation in the movie The Day After Tomorrow might happen, hope everyone (especially the middle-aged and elderly people with diseases like cardiovascular disease, arthritis, scapulohumeral periarthritis, etc., and friends who live in cold areas, high altitude areas and extremely cold areas) to prepare for keeping out the cold! Scientific and reasonable prevention makes life become easier and more wonderful! Meanwhile, CWMALLS® Patented Product Series is also provided with Custom Made, Personal Tailor services, and appreciated and interacted synchronously via Google, Bing, Facebook, Twitter,YouTube, Pinterest , LinkedIn, VK and other sharing platforms; welcome worldwide web celebrities, fashion icons, opinion leaders, columnists and other friends, partners to comprehend and cooperate actively! Thank you! In 2021 CWMALLS people, CWMALLS team, CWMALLS complex will bring you more surprises and values!