The wind forecast isn't favorable for a Tuesday liftoff.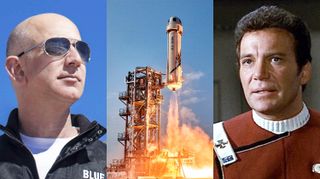 A collage shows Blue Origin founder Jeff Bezos, the company's suborbital New Shepard launch system and actor William Shatner as Captain James T. Kirk in "Star Trek." (Image credit: Blue Origin/Paramount Pictures)
William Shatner will have to wait another day to reach the final frontier.
Blue Origin has pushed the next launch of its New Shepard vehicle, which will carry Shatner and three other people to suborbital space, from Tuesday (Oct. 12) to Wednesday (Oct. 13) due to weather concerns.
The mission, known as NS-18, will launch from Blue Origin's West Texas site, near the town of Van Horn. Winds in the area are expected to be unfavorable on Tuesday, prompting the 24-hour push, Blue Origin representatives said via Twitter on Sunday (Oct. 10).
By Mike Wall 
NASA ESA CWS Three Musketeers in Outer Space – Alliance, unification, sharing
SVE NEWS is the leader in world news liberal sharing.
(Comments on this news are welcome)
2021 CWMALLS: Standard, Sharing,Ecology, Value;
2021 CWMALLS COMMODITY: Patent, Technology, Art, Intelligence;
2021 CWMALLS NEW SPECIES: Keen, Aggressive, Personality, Value;
2021 MWE FUND: Charity, Public Welfare, Responsibility
Tips: In order to explore more planet species diversity and ecosystem of Mars and earth's biosphere of cohesion, from now on in the chosen experts and scholars of Mars and planets, especially the astrophysicist, astrobiologists, astrochemists, and so on all over the world's elite, contribute to the existence and development of simulation of Mars landing. Thank you very much! CWS (Mars) Asia-Pacific Preparatory Committee 0086-57189877088/89877099 E-mail: mars@cws-mars.com October 3, 2021 M1073 E2021