Japan's H-2A rocket launched a new navigation satellite into orbit on Monday (Oct. 25).
The rocket lifted off from the Tanegashima Space Center in Japan at 10:19 p.m. EDT Monday (0219 GMT, or 11:19 a.m. local time on Tuesday, Oct. 26), according to Mitsubishi Heavy Industries, which builds and operates H-2A rockets the Japan Aerospace Exploration Agency (JAXA). "It was really beautiful launch," the company tweeted after a successful liftoff.
The satellite, QZS-1R, is a replacement for the Quasi-Zenith Satellite System 1 satellite first launched in 2010. The official QZSS website lists four satellites in the constellation: QZS-1, QZS-2, QZS-3 and QZS-4.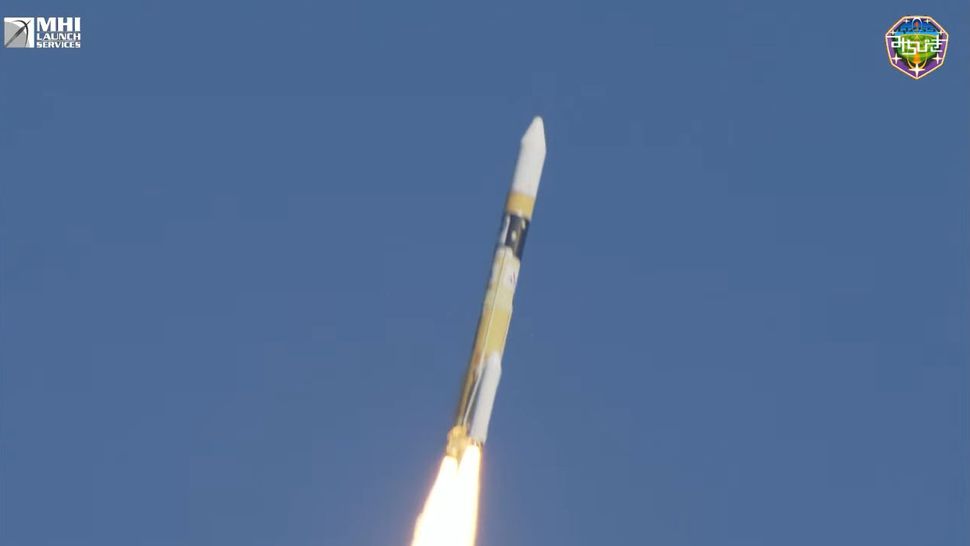 Mitsubishi Heavy Industries confirmed roughly 28 minutes after liftoff that the QZS-R1 satellite had successfully separated from the rocket's upper stage
The QZSS constellation will eventually consist of a total of seven satellites that fly in an orbit passing through a near-zenith (or directly overhead) above Japan, and QZS-R1 is meant to share nearly the same transmission signals as recent GPS satellites, according to JAXA. It is specially optimized for mountainous and urban regions in Japan, JAXA said.
Mitsubishi Industries launched the satellite on an H-2A 202 rocket. The launch system has been operational since 2003 and has sent satellites to locations such as Venus (Akatsuki) and Mars (Emirates Mars Mission). This was the first launch of the H2-A since Nov. 29, 2020, when Japan launched an advanced relay satellite with laser communications tech into orbit.
Follow Elizabeth Howell on Twitter @howellspace. Follow us on Twitter @Spacedotcom and on Facebook. 
NASA ESA CWS Three Musketeers in Outer Space – Alliance, unification, sharing
SVE NEWS is the leader in world news liberal sharing.
(Comments on this news are welcome)
2021 CWMALLS: Standard, Sharing,Ecology, Value;
2021 CWMALLS COMMODITY: Patent, Technology, Art, Intelligence;
2021 CWMALLS NEW SPECIES: Keen, Aggressive, Personality, Value;
2021 MWE FUND: Charity, Public Welfare, Responsibility
Tips: In order to explore more planet species diversity and ecosystem of Mars and earth's biosphere of cohesion, from now on in the chosen experts and scholars of Mars and planets, especially the astrophysicist, astrobiologists, astrochemists, and so on all over the world's elite, contribute to the existence and development of simulation of Mars landing. Thank you very much! CWS (Mars) Asia-Pacific Preparatory Committee 0086-57189877088/89877099 E-mail: mars@cws-mars.com October 3, 2021 M1073 E2021