And communications could continue to be spotty for a while to come.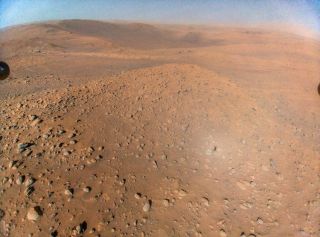 A photograph of the Perseverance rover and the Martian surface taken by the Ingenuity helicopter on April 22, 2023, during its 51st Red Planet flight. (Image credit: NASA/JPL-Caltech)
NASA's Mars helicopter Ingenuity had its handlers sweating bullets about two months ago.
The little chopper failed to check in with the mission team for about six days in early April, Ingenuity chief engineer Travis Brown wrote in an update on May 26.
This was not a cause for concern at first. Since January of this year, when winter set in at Ingenuity's digs — the floor of Mars' Jezero Crater — the solar-powered chopper "had unfortunately been drifting in and out of nighttime survival mode (having enough power to avoid overnight brownouts)," Brown wrote in the update.
But when the life-hunting, sample-collecting Perseverance came back into communications range "and the helicopter was still nowhere to be found, the situation began to generate some unease," wrote Brown, who's based at NASA's Jet Propulsion Laboratory in Southern California.
"Poor telecom performance was seen as a plausible explanation, but there were reasons to doubt it," he added. "In more than 700 sols operating the helicopter on Mars, not once had we ever experienced a total radio blackout. Even in the worst communications environments, we had always seen some indication of activity."
One sol, or Martian day, is slightly longer than an Earth day, lasting about 24 hours and 40 minutes.
The Ingenuity blackout began on sol 755, or April 5. It finally ended on sol 761, when the mission team spotted a signal during the helicopter's expected wakeup window. A second signal at the same time on sol 762 "confirmed that the helicopter was indeed alive, which came as a welcome relief for the team," Brown wrote.
Ingenuity conducted its 50th flight on Mars the very next day — sol 763, or April 13. It reached a maximum altitude of 59 feet (18 meters) on that sortie, higher than it had ever gone before.
"It would be an understatement to say that the helicopter team was relieved to see the successful flight telemetry in the sol 763 downlink the following morning," Brown wrote.
Ingenuity flew again on April 22 but has stayed ground-bound since then.
Summer will soon return to Jezero Crater, but the communications issues may persist beyond the change of seasons, according to Brown. That's because there's a large amount of Martian dust on Ingenuity's solar panels, which will likely keep the chopper in its current "transitional power state" for a while yet.
"This means that, much to the chagrin of her team, we are not yet done playing this high-stakes game of hide and seek with the playful little helicopter," Brown wrote.
Sources from:SPACE.COM
SVE NEWS is the leader in world news liberal sharing.
(Comments on this news are welcome)
2022 CWMALLS: Standard, Sharing,Ecology, Value;
2022 CWMALLS COMMODITY: Patent, Technology, Art, Intelligence;
2022 CWMALLS NEW SPECIES: Keen, Aggressive, Personality, Value;
2022 MWE FUND: Charity, Public Welfare, Responsibility
2022 CWS is with the world and Mars!
Tips: In order to explore more planet species diversity and ecosystem of Mars and earth's biosphere of cohesion, from now on in the chosen experts and scholars of Mars and planets, especially the astrophysicist, astrobiologists, astrochemists, and so on all over the world's elite, contribute to the existence and development of simulation of Mars landing. Thank you very much! CWS (Mars) Asia-Pacific Preparatory Committee 0086-57189877088/89877099, E-mail: mars@cws-mars.com, Twitter: CWS, October 3, 2021