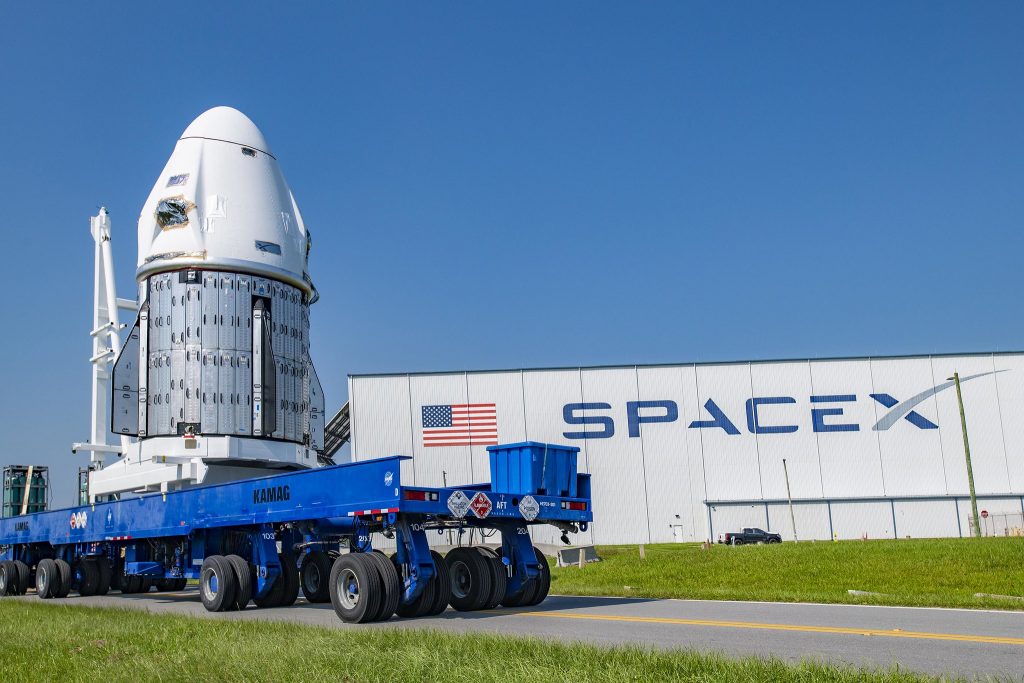 The Crew Dragon Endurance spacecraft for NASA's SpaceX Crew-5 mission arrives at the hangar at Kennedy Space Center's Launch Complex 39A in Florida on Sept. 23, 2022. The capsule arrived at the launch complex after making the short journey from its nearby processing facility at Cape Canaveral Space Force Station. Photo credit: SpaceX
NASA and SpaceX are targeting no earlier than noon EDT Wednesday, Oct. 5, for the launch of the agency's Crew-5 mission to the International Space Station with a U.S. Eastern Range backup date on Oct. 7. Mission management teams also are exploring potential range opportunities on Oct. 6 pending review of the phasing timeline, Oct. 8, and Oct. 9.
Mission teams continue to monitor the impacts of Ian on the Space Coast and NASA's Kennedy Space Center in Florida and could adjust the launch date again, as necessary. As of 6 p.m. Wednesday, Sept. 28, Kennedy Space Center declared HURCON I status with the ride out team sheltered in place at their designated locations until the storm passes.
More updates on the planning schedule, including crew arrival from the agency's Johnson Space Center to Kennedy, will be provided in the coming days and will depend on weather and center status. The safety of the crew, ground teams, and hardware remain the utmost importance to NASA and SpaceX.
The Dragon Endurance spacecraft is currently mated to the Falcon 9 rocket and safely secured inside SpaceX's hangar at Launch Complex 39A. After the storm progresses, teams from NASA and SpaceX will evaluate the potential impacts to the center and determine whether to adjust the mission timeline further.
Undocking of the agency's Crew-4 mission from the space station will move day-for-day along with the Crew-5 launch date to allow a planned five-day direct handover between crews.
The Crew-5 flight will carry NASA astronauts Nicole Mann and Josh Cassada, who will serve as mission commander and pilot, respectively, along with JAXA (Japan Aerospace Exploration Agency) astronaut Koichi Wakata, and Roscosmos cosmonaut Anna Kikina, who will serve as mission specialists.
Follow the Crew-5 blog for the latest information on the mission and weather impacts. Learn more about Crew-5 by exploring the Commercial Crew Press Kit.
Sources from: NASA.GOV
NASA ESA CWS Three Musketeers in Outer Space – Alliance, unification, sharing
SVE NEWS is the leader in world news liberal sharing.
(Comments on this news are welcome)
2022 CWMALLS: Standard, Sharing,Ecology, Value;
2022 CWMALLS COMMODITY: Patent, Technology, Art, Intelligence;
2022 CWMALLS NEW SPECIES: Keen, Aggressive, Personality, Value;
2022 MWE FUND: Charity, Public Welfare, Responsibility
2022 CWS is with the world and Mars!
Tips: In order to explore more planet species diversity and ecosystem of Mars and earth's biosphere of cohesion, from now on in the chosen experts and scholars of Mars and planets, especially the astrophysicist, astrobiologists, astrochemists, and so on all over the world's elite, contribute to the existence and development of simulation of Mars landing. Thank you very much! CWS (Mars) Asia-Pacific Preparatory Committee 0086-57189877088/89877099, E-mail: mars@cws-mars.com, Twitter: CWS, October 3, 2021